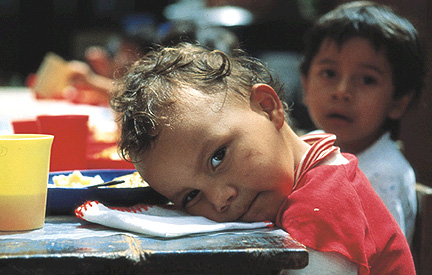 "Lunch Makes Me Sleepy"
This boy is one of many children cared for at an excellent project on the edges of the Guatemala City dump. Many people in the area support themselves by picking the through the dump for re-usable or recyclable items. The children's project stands out as an oasis where a child can be safe, clean, fed and nurtured.
---
( What Is It? ) ( How It Started ) ( When Is It? ) ( Activities ) ( Get Involved ) ( Photos )

---
Copyright 1991-2019, Children In Need Inc. All photos by Christopher Redner/Children In Need, unless otherwise noted. You may download and distribute text. If you wish to use the images or photographs, please call (253) 874-8400.